Whether it is a script, a photo, a video or source code, a digital timestamp proves that you had it at a certain point in time. This is an important proof in demonstrating something is your intellectual property.
So how do you stop someone copying your work and claiming it as their own? Applying for a Copyright or a Trademark? This can take years and cost thousands in legal fees. Now there is a new quick and affordable way to solve this problem.
To protect against file tampering we create a unique digital signature for the contents of each file. Any file can be checked against this signature to prove that its content is identical to the original version.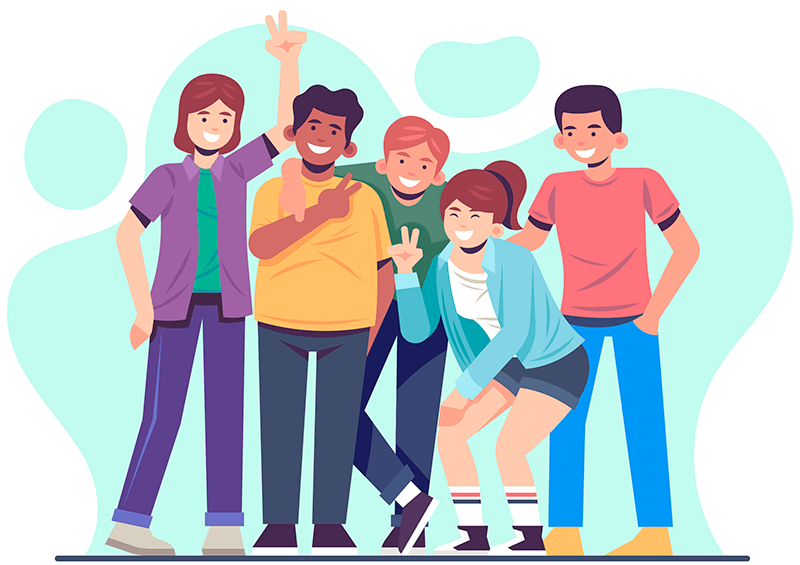 Simply and quickly process files and retrieve a provable timestamp
We have made protecting your intellectual property and file validation a much easier process.
Simple processing of new files.
Retrievable list of processed files and timestamp proofs.
List of successful verifications of files.
Files can be verified against the original for no cost.
List of transaction history.
Download proof of your timestamp at any point in the future - or allow anyone to verify your file without an account.
Digital Timestamps uses the decentralized, publicly auditable, Bitcoin blockchain, removing the need for trusted authorities
At $2.50 per file no matter what size - DTS is a very cost effective solution to intellectual property security
DTS can create a third-party-verifiable timestamp in about a second; you don't need to wait for a Bitcoin confirmation
Simple to use
Simple to use
An example account..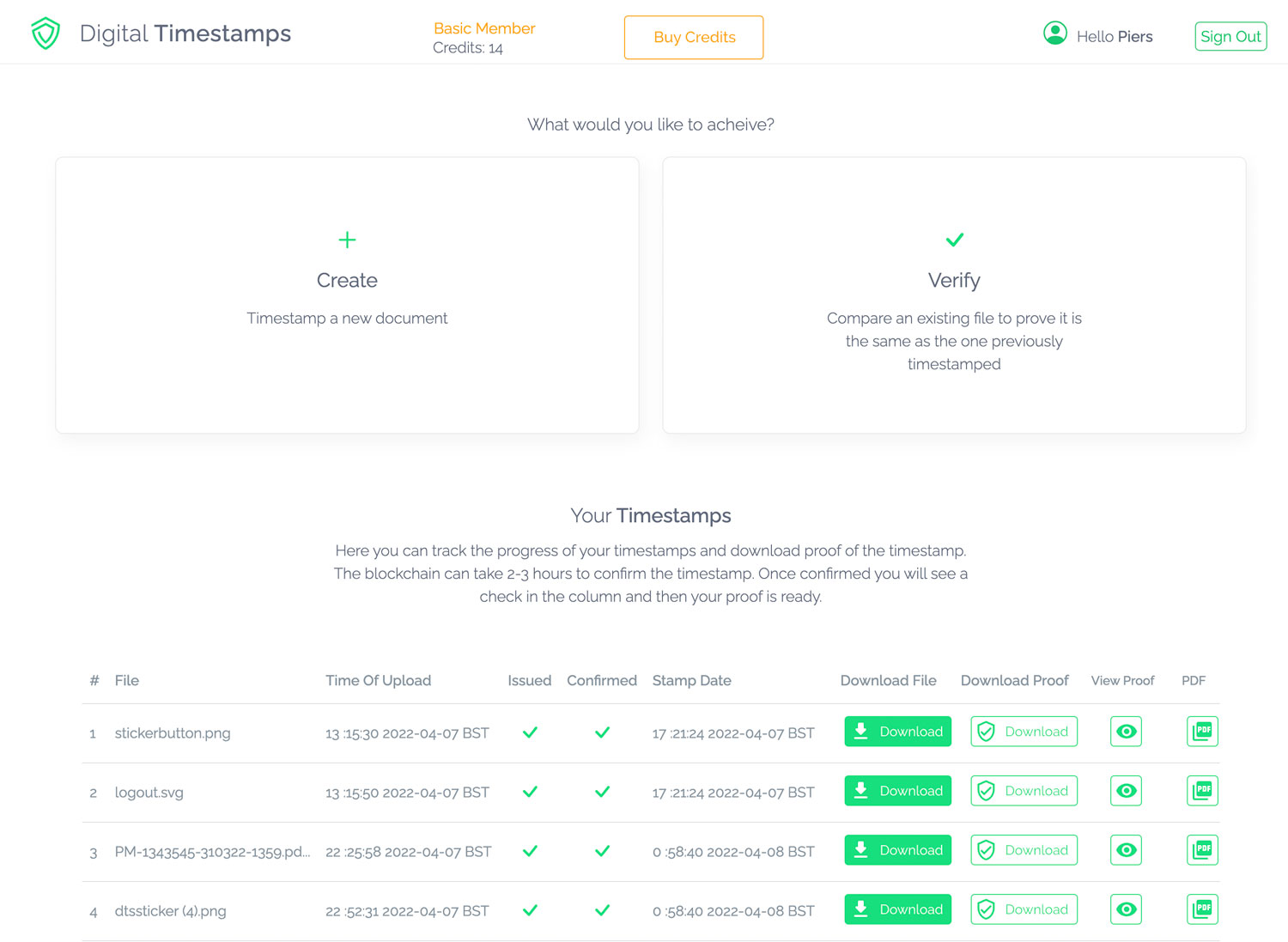 Why is Blockchain better?
<>We create a unique identifier to the content of your document and add a timestamp for when this happened into the blockchain. Built on the
opentimestamps
framework this identifier is recorded forever in this global ledger and can be retrieved at anytime via our site.
Blockchain has created disruption in lots of traditional workflows, which traditionally required a central system to control the process.
By removing the central control from the process and instead placing the recording of information into the hands of the many it removed trust in the few to trust in everyone making a more secure system and one that cannot be manipulated after the event.
Use Cases
Use Cases
Benefits of timestamping
It is sensible to timestamp a document prior to sharing with a third party. In the event of intellectual copyright theft proving the creation date can be vital in preventing thrid parties from passing off your work as their own.
Sensitive files can be sealed and verified at the receivers end to ensure there has been no tampering with the contents en route.
By timestamping videos or photographs you can secure and confirm the original file against subsequent files to prove no editing has taking place after submission.
Testimonials
Testimonials
The opinions of some happy customers
Clever and at the price impossible to ignore.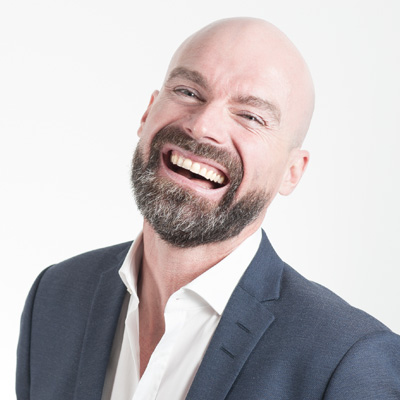 Saul Goodman
Ceo & Founder
Great idea and affordable. I will not send a script to anyone before making sure i can prove it is my work.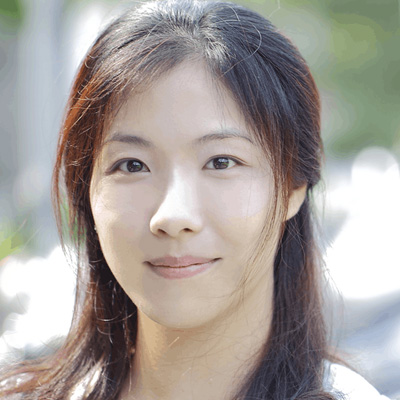 Sara Wilsson
Writer
A simple but essential service. I use it to validate the critical documents and papers before court submission. It is a belt and braces approach to evidence collection and submission.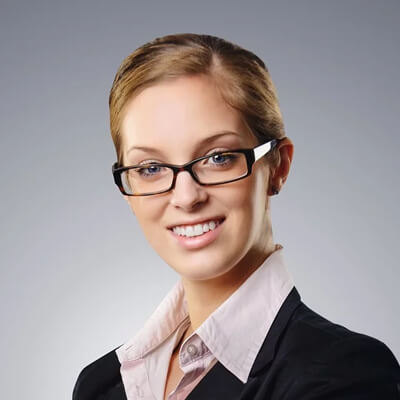 Jena Karlis
Paralegal
I timestamp my work before I let it into the public domain. It gives me peace of mind knowing that I can help prove it is my work should someone else try to claim it.
Matt Brandon
Photographer
I timestamp dashcam footage immediately and recomend everyone does. There are cases of people submitting altered videos of accidents to fool the claims hanlders.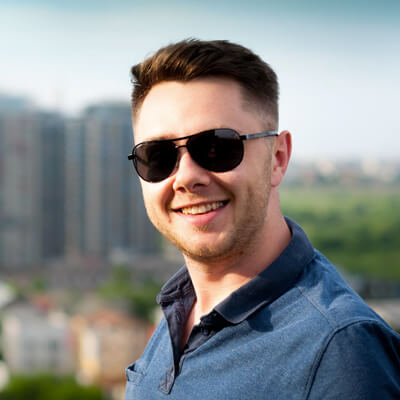 John Larson
Insurance Specialist
FAQ
FAQ
Common questions answered
A timestamp proves that some data existed prior to some point in time. We define a set of operations for creating provable timestamps and later independently verifying them.
There are many reasons for needing a Timestamp - to aid proof of ownership, file verification and proof of non-tampering are examples.
By timestamping a document or digital asset it proves that the time you had it. If you then share the document with someone else they casnnot claim to have authoured it as they cannot prove they did this prior to your timestamp.
Trademark applications can take up to two years to process and many other application may apear during this time in related areas. By timstamping your product as part of you application you are proving that you were the first to apply.
Blockchain uses the principle that proof is confirmed in many places making it impossible to tamper with after the event providing a more trustworthy environment.
No. Altering your timestamp is not possible after it is created.
Pricing
Pricing
Plans to suit everyone
1

Digital Timestamp

100mb

Max file size

1

Account

Unlimited

File verifications

10

Proof Downloads
Unlimited

Digital Timestamps

100mb

Max file size

1

Account

Unlimited

File verifications

Unlimited

Proof Downloads
Unlimited

Digital Timestamps

1 GB

Max file size

12

Accounts

Unlimited

File verifications

Unlimited

Proof Downloads
Register
Registering is simple and free.
Register
Contact
Contact
Got a question or a query - get in touch
Email:
info@digitaltimestamps.com